Discover the Aquitaine Region and its multitude of treasures !
A natural wealth: sandy wavy beaches in Biarritz, the famous bordelais vineyard, the dune of Pilat which is the tallest in the world . A rural heritage in the form of bastide town,  castle and manor houses, dovecotes and windmills. A gastronomy: mushrooms, the famous oysters from Arcachon Bay, foie gras, prunes of Agen and the unforgettable wines from Bordeaux !
The Agriculture in Aquitaine 
Aquitaine is the first french producing region of wines with 145 000 hectares of vines. Viticulture represents 39 % of the agriculture production of Aquitaine with 1 billion bottles of white, red and rosé wines produced per year !! Aquitaine is also the first french region for the production of tobacco, prunes, strawberries, kiwis, nuts, corn, geese, ducks for foie gras production and quails .
This tour is an example: times, dates and itinerary  are only given as a suggestion
BORDEAUX
|
DUNE DU PILAT
|
BIARRITZ
|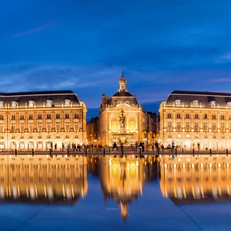 Source: AGRESTE Aquitaine, CRT Aquitaine / Crédit Photo: CRT Aquitaine